Viper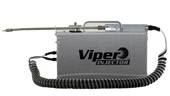 The VIPER Injector System is specifically designed for the application of solvent based insecticides, or other insecticides labeled for ULV application in cracks, crevices and wall or structural voids.
To print the VIPER Spec Sheet click here.
Features:
Height 29.9cm 10.5"
Length 38.1cm 13.75"
Shipping Weight 8.4kg 17lbs
for price information or to place your order today.
Features:
Simple, effective design
115 volt compressor
Lightweight aluminum construction
Stainless steel wand
Built in wand stow
44 oz. tank capacity
Pressure relief valve
19 PSI operating pressure
15 ft. polyurethane coiled hose
100 mesh removable filter
Chemical resistant internal tubing
Easy cleaning
1 year limited warranty