REPLACEMENT GLUE BOARDS
We manufacture high quality replacement glue boards sized to fit multiple widely selling flying insect traps using industry-renowned chemical-free Tanglefoot® glue.
We can customize glue boards to meet your specifications, including the addition of pheromones.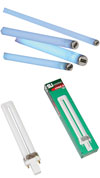 REPLACEMENT BULBS
We offer replacement bulbs to fit most industry standard Insect Light Traps (ILT's).
for more information or to place your order today.