G-IV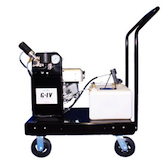 See more pictures
The Plan B G-IV is a skid or wheel mounted ULV chemical dispersal unit powered by a 5-hp Briggs & Stratton gasoline engine. Designed for outdoor and indoor application, the powerful discharge enables the operator to cover relatively large areas quickly and effectively.
The Plan B G-IV is easy to operate and maintain. With a chemical droplet spectrum with 85% in the 1-20 micron size range, this true ULV design is ideal for mosquito and other pest control. The 6 gallon chemical tank allows for fewer fill-ups in large treatment areas.
To print the G-IV Spec Sheet click here.
Specifications:
Skid Mount: 30"x20"x26"
76cmx51cmx66cm
Wheel Mount: 30"x20"x33"
76cmx51cmx84cm (112cm with handle)
Skid/Wheel Mount Crated: 35"x30"x40"
89cmx76cmx102cm
Features:
5 HP Recoil Start Briggs & Stratton Engine
6 Gallon Chemical Tank
Adjustable Flow Meter - up to 10.5opm
Droplet Size - 85% 1-20mmd
Options:
Wheel Mount 5 HP Briggs & Stratton Engine
Wheel/Skid 5 HP Electric Start Honda Engine
for price information or to place your order today.
Suggested For:
Food/Commodity Storage
Warehouses
Distribution Centers
Golf Courses
Sports Fields
Resorts
Small Municipalities