E-IV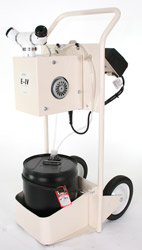 See more pictures
This uniquely designed twin nozzle, electric powered ULV unit will treat areas up to 300,000 cubic feet. The E-IV includes its own wall mounting brackets and features dual nozzles which can be individually adjusted for directional spray with a choice of chemical flow rates ranging from 1.5 to 5 OPM (44-148 ml/min). E-IV options include separate wall brackets to hold either a 2.5 or 5 gallon (18 litre) jug/pail, automatic timer and handcart (includes automatic timer). Whether treating an open or divided areas prescribed amounts of chemical per area can be determined by the timer controls and or selected chemical flow rates.
The optional hand cart transforms the E-IV to a mobile chemical dispersal unit. The powder coated cart was designed with total portability in mind - it includes a space to hold up to a 5 gallon chemical container, a securing strap, a mounted 24 hour timer with protective cover and a cable wrap for extension cord storage.
To print the E-IV Spec Sheet click here.
Features:
Height 111.76cm 44"
Length 60.96cm 24"
Shipping Weight 27kg 58lbs
for price information or to place your order today.
Suggested For:
Food Processing Plants
Storage Warehouses
Distribution Centers
Restaurants
Supermarkets
Dairies
Flour Mills, etc.